And much more news!
Where should we start? A lot has happened behind the scenes in preparation of the new 2020 glamping season. Because when for many campsites the season is ending and they start preparing the safari tents for winter, the new season just starts for us. We will be on various glamping exhibitions, campsite managers start looking around, and our construction teams prepare to be busy. In short, the perfect moment to inform you about all the new Outstanding trends and developments! So take a moment and let yourself be inspired. We have a lot to tell…
Every year, we like to surprise you with something new; a new model, improvements, a brand-new showroom, you name it. But this year, we have no less than four (!) new launches:
But it really does not end here. Since recently, we also have a wooden door in our range, new advisers in Japan and America, trucks completely fitted in Outstanding style hit the road, and an iron frame for tents if you do not want to fix them to the ground. We could go on. But let's first look at the most important novelties: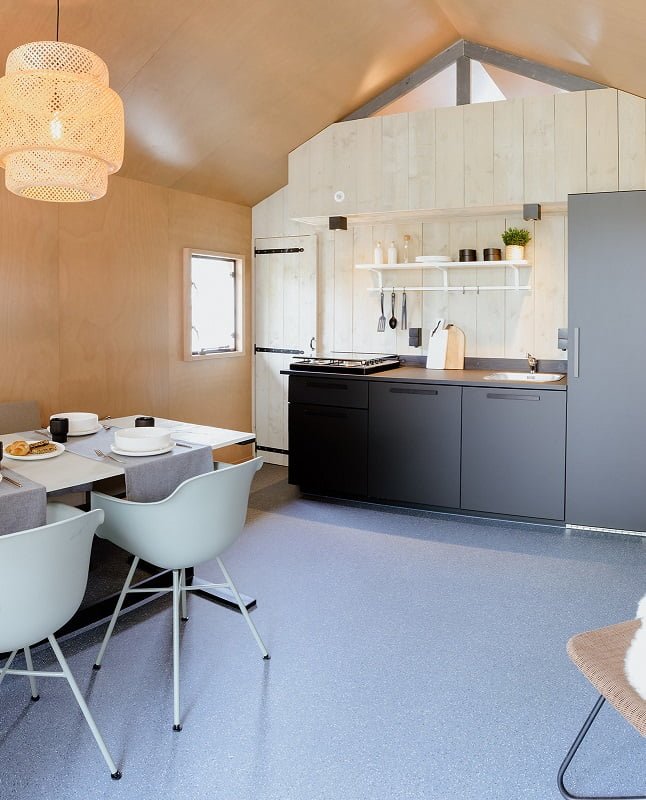 Glamping Chic furniture – luxury like home
To keep our leading role, we believe it is important to keep developing ourselves. In recent years, we have focused on developments in our current assortment safari tents and wooden furniture. But to make a real difference, we wanted to offer a second style which was different, innovative and exclusive. And we have certainly succeeded with our Glamping Chic line: a broad range of exclusive and luxurious furniture!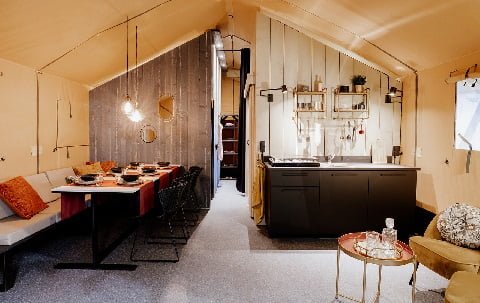 The safari tent in a new (winter) guise
We noticed there was a requirement for a glamping tent which can be used year-round. We also offer beige roofs for locations with extreme solar power, so the tents will heat up less. But for the colder places, we could not yet offer an optimal solution to utilise our tents to the max. And so our thermo-tent was born! We are not one to say no, so we have adjusted our assortment to the demand.
An insulated thermo-tent gives you the option to have guests enjoy glamping year-round. During summer, a thermo tent will not heat up as much as a safari tent, and in the winter, it provides protection against cold, wind and rain, due to the strong insulated panels. To retain the camping feeling, we have chosen a glass front. Your guest can cosily sit inside and still enjoy the surroundings!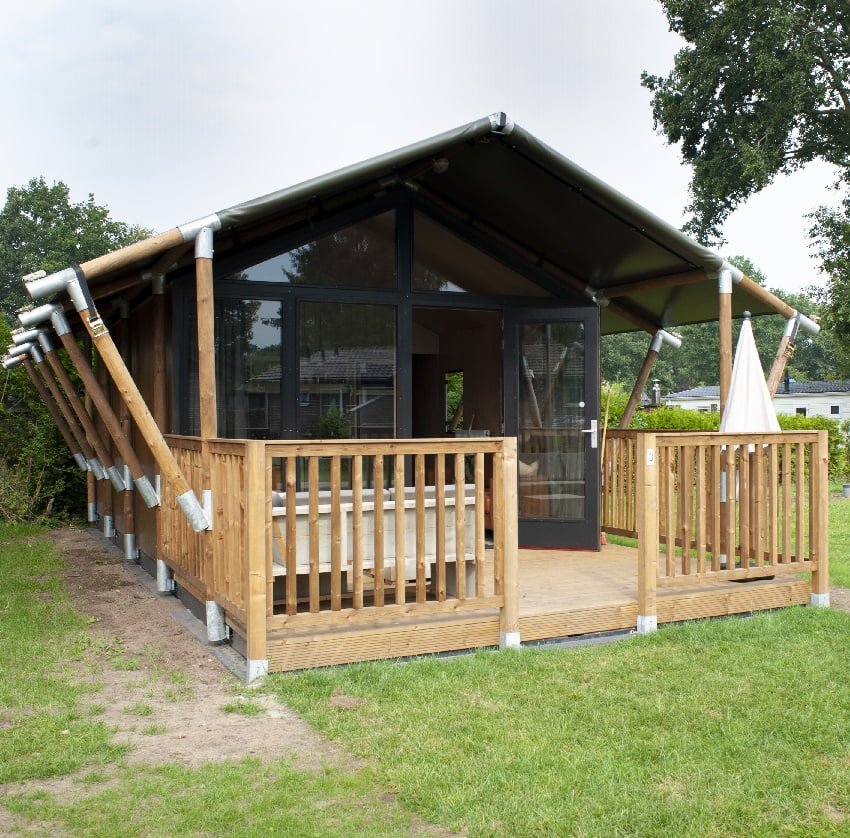 Talking about guises…
Our tents are resistant against all weather conditions and require little maintenance. Even better, you can leave them outside all year. Still, there are always ways to optimise the lifespan of your tent, and that is why we have added a set of windbreak mesh to our product range. This green cover is fitted over your safari tent after the rental season. Your investment is even better protected against sun, rain, and deposits, while it keeps breathing at the same time! Perfect, isn't it?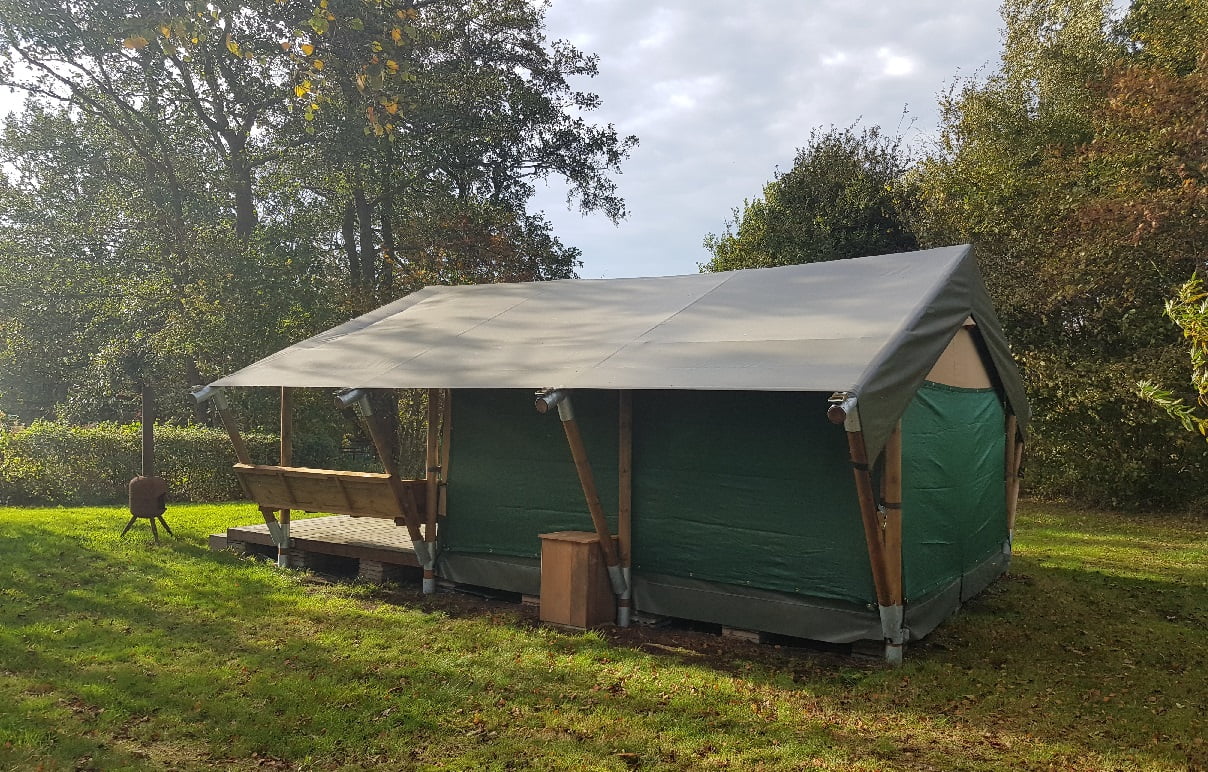 The Safari Cottage…a bit different
The original Safari Cottage comes with a beautiful gable. Prefer an open roof? The Safari Cottage Gable is best for you. Both models have the same properties and advantages. Both tents come with an extra 0.5 metre width compared to the classic safari tent Wood. This will give you more space to optimally partition your tent.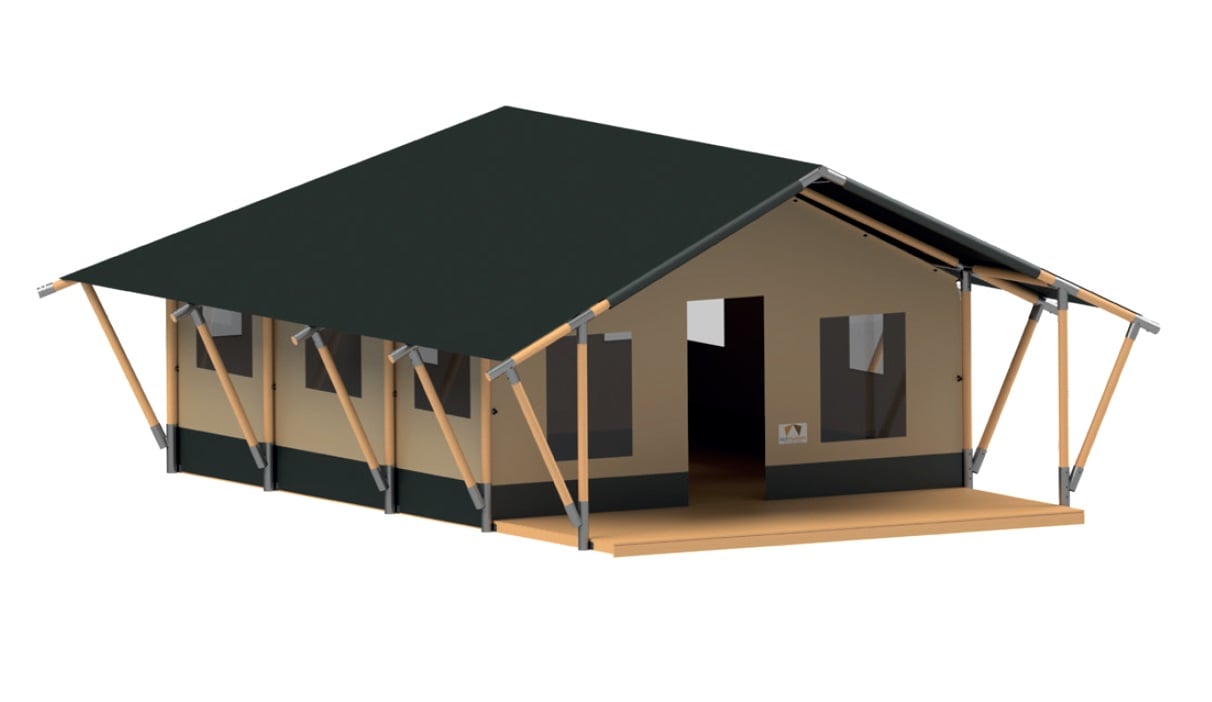 Want to know more? Please contact our advisers
Want to know more? Please contact our advisers. They can tell you more!