An Outstanding experience
Who are we? We are Outstanding. Outstanding means "remarkable" and "impressive". But for us, it also means energy, passion and experience. And that's what we aim for every day. We lift camping to a higher level and thus meet the growing demand for safari tents and luxury glamping tents.
By:
Providing suitable advice
Having a personal approach
And a lot of enthusiasm!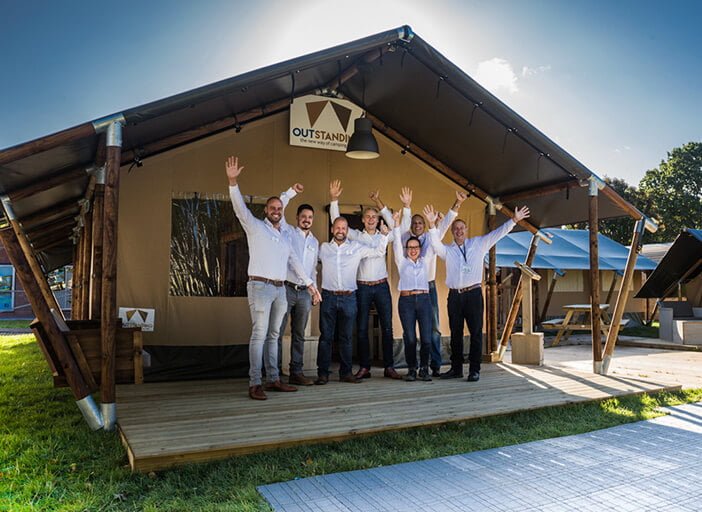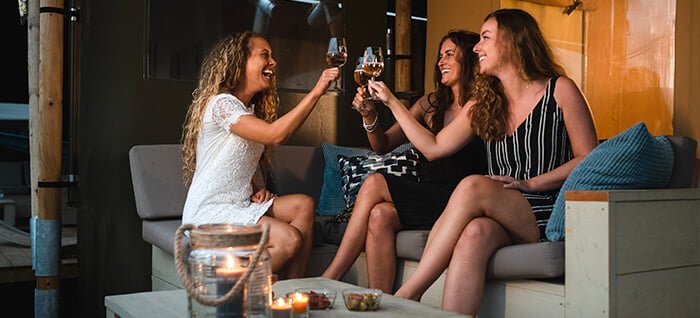 Innovation never ends
During our Friday afternoon socials, we are not only devouring good food and having a nice chat, but we also continuous work to improve our brand. How can we make ourselves and our tents just that bit better? All kinds of ideas fly around!
But really, our passion and drive cannot be put into words. We go the extra mile for you, and you will see that once you get to know us. You won't only discover our safari tents, but you will also be introduced to perhaps the most driven glamping team! Would you like to become a distibutor of Outstanding? Find out here what we can offer.
Personal advice
From design to realisation
Fast delivery
Over projects in different countries

Jason Higbee
Agent America
Enthusiastic, ambitious and resourceful. Lives in the USA and will be happy to advise you about the American and Canadian market.

Remco van de Fliert
Sales Manager
Inventive, enthusiastic and helpful. Responsible for sales. Just ask!

Istvan Koszo
Agent Hungary
If you want to know what the best ROI is for Glamping in Hungary, ask Istvan! With his own Glampsite in Hungary Istvan can give you the best advice for developing your site.

Felicia Franken
Advice and sales Head Office NL
Enthusiastic, helpful, and engaged. Felicia is responsible for the sales at our head office together with Richard and Remco.

Richard van Laar
Advice and sales Head Office NL
Solution-oriented, enterprising and social. Responsible for sales in the Netherlands together with Remco and Felicia.

David Otniel Gershom
Agent Israël
Interested, loyal and enthusiastic. Lives in Israel and will be happy to advise you about the Israeli market. He speaks English and is learning Hebrew.

Robin van Kooten
Owner
Positive, enthusiastic, energetic and very enterprising. There are no problems, only challenges.

Johan de Vries
Inventory management
Structured, secure and precisely. Manages the incoming and outgoing flow of goods so that we can operate in the most efficient way.

Sander Wildeman
Backoffice
Solution-oriented, decisive and structured. Ensures successful and smooth order processing of your safari tents.

Misha Nab
Marketing
Energetic, diligent and full of ideas. Ensures that you are always up to date on Outstanding activities.

Hendrik van den Brink
Technical draughtsman
Secure, committed and structured. Works together with Jonathan to provide all the (technical) drawings within the business.

Peter de Wit
Logistics location manager
Decisive, punctual, and structured. Manages the logistics department and makes sure that everything keeps running smoothly.

Pauline Vonk
Procurement
Driven, self-employed and enterprising. Ensures a good forecast and a broad and high-quality network of suppliers, so that our tents are made from the best materials.

Jaap Frerichs
Assembly Planner
Enthusiastic, technical, and analytical. Responsible for the scheduling and deployment of the assembly teams.

Erik Donselaar
Warehouse
Curious, enthusiastic and energetic. Ensures that all orders leave the warehouse fully complete, and on time.

Gerard Geertsma
Warehouse
Energetic, go-getter and structured. Takes care of all the outgoing goods, so they will arrive complete and secure at destination.

Gerhart Broere
Assembly team crew
Committed, go-getter and independent. Shares responsibility for the assembly of your safari tent within the Benelux.

Silvan Fauw
Assembly team crew
Results-oriented, enthusiastic and precise. Does not leave your campsite grounds until your tents are assembled and in tip-top shape.

Salvador Pons
Agent Spain
Helpful, interested and attentive. Do you have plans for the Spanish market? You can always count on Salvador.

Massimo Pecchia
Agente Italy
Service provider with an eye for detail. With our Partner Glant behind his back he is the specialist in Italy for Glamping. Don't hesitate to contact Massimo about the possibilities.

Emile van Zuijlen
Logistics planner
Driven and involved, with an eye for detail. Makes sure that our incoming and outgoing goods department runs flawlessly.

Eric Balloffet
Country Manager France
Enthusiastic and always interested in new business ideas. Do you have any plans for the French market? Eric will help you with the right knowhow!

Avital Gerritsen
Agent Israël
Service provider with an eye for detail. Eager to learn and understand what it takes to create a memory making glamping experience.