A suitable interior for every safari tent
What makes a glamping tent and luxury tents comfortable? The interior and accessories! That is why we also supply wooden scaffolding furniture and all the fixings. That gives your glamping tents that luxurious look. Moreover, we offer mattresses, pillows, crockery and even a coffee maker! This way you can offer your guests a fully furnished safari tent.
Wooden scaffolding furniture; delivered assembled or cut to size
All 

accessories

available from stock
Want to know more? Take a look at our furniture catalogue!
Our wooden scaffolding glamping furniture…
It is splinter-free, and that's a big plus! The dirt and water-repellent coating means that it requires little maintenance. The brushed wooden scaffolding doesn't only look great; you hardly have to worry about it at all. And your guests will feel like the king of their safari tent!
Take a look inside and be inspired
Did you know that?
With our wide range of furniture and glamping supplies, we can take care of the complete decor of your safari tent.
Our wood is dried out to 18 procent. We do this to ensure that the flexibility of the wood is minimal.
Our wood is sprayed with a water reppelent coating. This protects the wood against moisture and makes it easy to simply wipe the table clean with a cloth!
With our inventory set your kitchen is immediately furnished. The set includes a full set of pans, a complete dinner service for six people and supplies.
Our range is based on luxury 90 cm matrasses and accessories. Feel free to ask us for advice about available options for other sizes.
All furniture is delivered in one piece. If this isn't possible, we will of course ensure that you receive all necessary parts sawn to the correct size.
Our sanitary package provides a completely fitted out bathroom. This package includes a standard toilet, basin with tap, shower and vinyl floor.
Do you want curtains or wooden walls, a sliding door, or do you wish to separate the rooms by cotton room dividers? All options are open.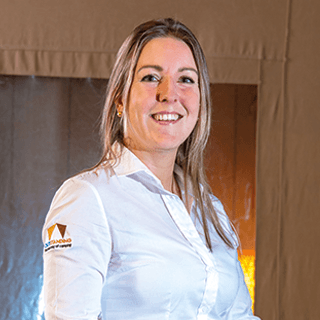 Which safari tent suits you?
What does your ideal safari tent, luxury camping tent or lodge look like? We can offer you advice and countless options. This is how we find the glamping accommodation that best suits you.
Interested? Then contact us. We can make your dream a reality!