Camping feeling during the winter
It's all in the name and that also applies to the Compact Thermo tent. This innovative Thermo tent is insulated and makes maximum use of the available space on your land. Your guests experience tranquillity and nature whilst enjoying luxury and relaxation. Looking for a tent to extend your season? Want to get maximum return by m2? Then the Compact Thermo tent is the answer. The panels offer maximum comfort and the glass front ensures your guests will still enjoy that camping sensation. Offer them convenience and enjoy the return yourself.
Outstanding Thermo tents
Our Thermo tent Compact is available in two sizes and you can see more details on the next pages. This ensures that there is always a thermo tent that suits your wishes and requirements.
Our unique thermo tents offer high quality and year-round pleasure:
Strong, insulated panels that were made sustainable under the KOMO quality mark and FSC.
A glass front for a maximum relationship between comfort and experiencing nature.
Four seasons of glamping pleasure.
Vinyl floors and wooden scaffolding walls with compriband for privacy.
Unique end couplings to extend the life of your tent.
Movable floor optional.
Glamping tent with optimal use of m2
With an internal width of 4 metres, the Compact is narrower than other tents. If lack of space is an issue, or you want to make optimal use of the space you do have, maximising every metre, our thermo tent Compact is the perfect solution.
In short: the thermo tent Compact offers everything you may expect of our tents. Quality, flexibility, comfort and ease of use.
This size is available from spring 2020.
2 to 4 people
16 m2
4m x 4m
The innovative thermo tent
The AN4 thermo tent Compact is 2 metre longer than the AN3 version. Therefor this model stays compact, but simply gives you more opportunities when it comes to interior. It gives you the space to add a shower and a toilet and/or to add extra beds to create more sleeping space.
Also in these measurements the thermo tent Compact is the perfect solution when lack of space becomes a problem. You can make optimal use of the space you have so you can get as much out of each m2 as possible.
4 to 6 people
24 m2
4m x 6m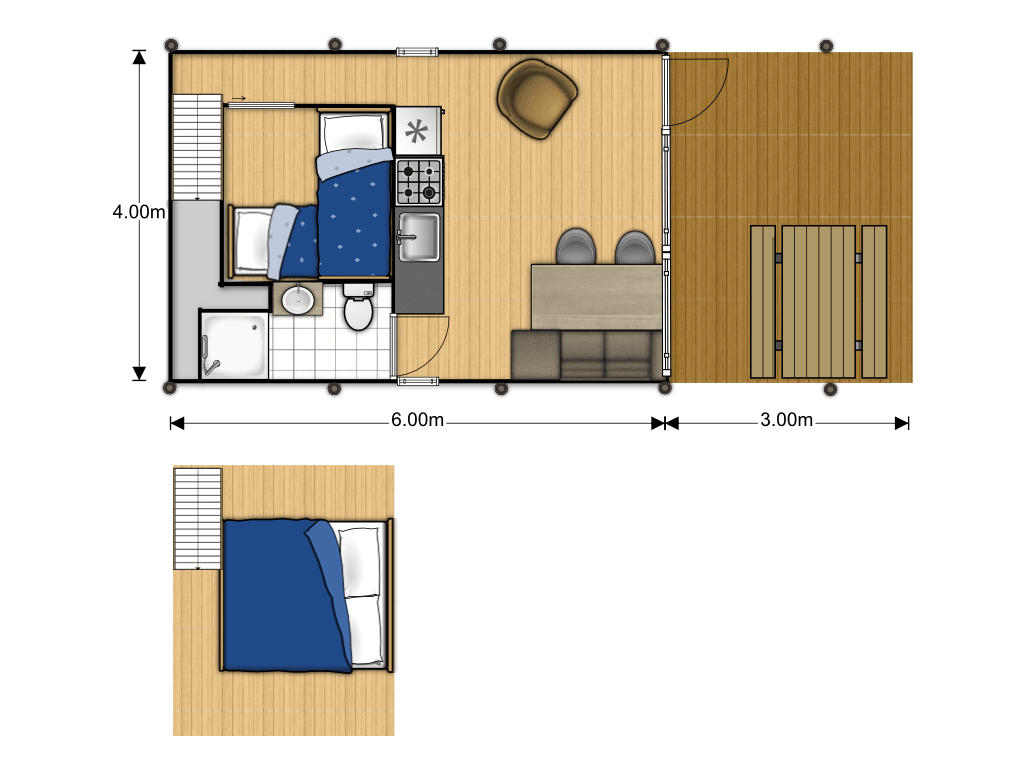 Which safari tent suits you?
What does your ideal safari tent, luxury camping tent or lodge look like? We can offer you advice and countless options. This is how we find the glamping accommodation that best suits you.
Interested? Then contact us. We can make your dream a reality!