Portugal
10 tents
With interior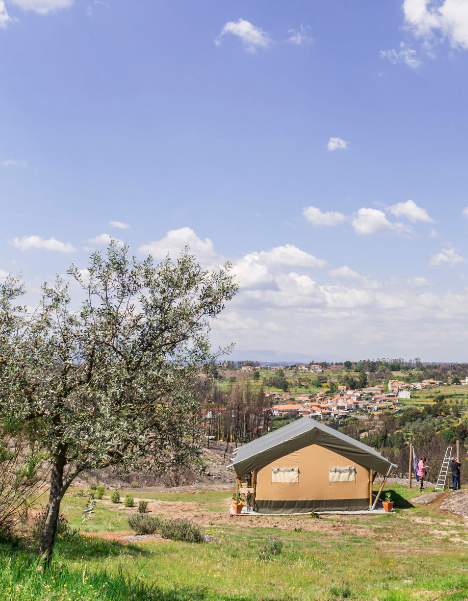 Luxury camping in Portugal
In Brejo in Central Portugal, you will find Glampsite Quinta dos Corgos. This old Quinta, or estate, has been transformed into a holiday paradise by a Dutch couple, Arjen and Mirte.  Quinta dos Corgos is beautifully situated in the foothills of the Serra Da Estrela mountain range. An idyllic location, perfect for the popular glamping concept, also known as glamorous camping. Glamping means camping in luxury with all the comforts of home. More and more people are opting for a unique camping experience.
Glamping is also an up-and-coming trend in Portugal. And the Dutch owners of Quinta dos Corgos, Arjen and Mirte, have taken advantage of this trend like no other. Ten safari tents with spectacular views of the valley and the mountains can be found on their 20-hectare Quinta.  Several years ago, the couple decided to take on the challenge and moved to Portugal. "We were inspired by an acquaintance when we were first introduced to safari tents at his glampsite. The moment we saw those spectacular tents, we knew: this is what we were looking for!"
Luxury safari tents: the success of glamping
Quinta dos Corgos is a huge success, but there's much preparation involved, the couple explains. "Make sure you know what you're doing before starting a glampsite. Outstanding has given us some excellent advice in that respect." The safari tents are luxuriously furnished and feature every mod con, such as a private bathroom and a fully equipped kitchen. "Our guests are always incredibly enthusiastic. Practically all our guests are returning guests!" Quinta dos Corgos is the perfect location for a luxurious holiday close to nature.
What Quinta dos Corgos says about us
"It is an exceptionally fine partnership. Delivery is quick, and Outstanding worked with us from the beginning on transport, lead times and assembly. The tents themselves are wonderful and exceptionally tasteful!" – Quinta dos Corgos
The choice of Quinta dos Corgos