The classic safari tent in full glory
The classic safari tent, the beginnings of glamping. A versatile and therefore popular safari tent. Although there is a lot of choice in the area of safari tents and lodges these days, this modern classic remains popular. And that is not a strange thing. Our Safari Tent Wood is the ideal family accommodation. There is just enough room to accommodate a large family, yet the tent does not feel too big. With a built-in kitchen and bathroom optional, the tent is fully equipped. This way you meet the wishes of your guests: The authentic camping feel, but with a little more luxury.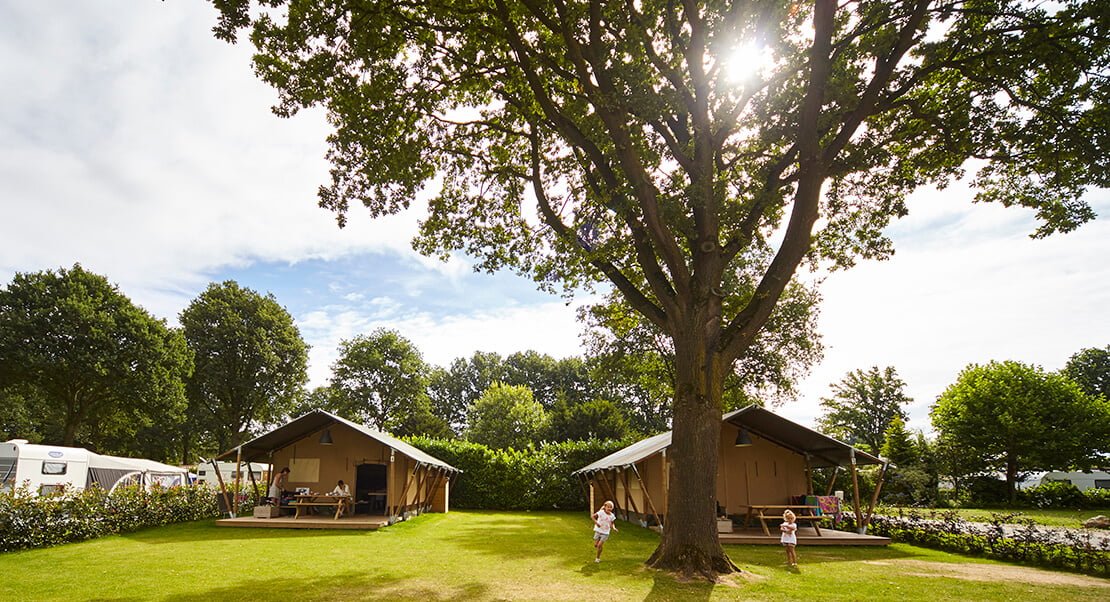 What our customers say about us:
With over 720 projects in 52 countries, our assortment of safari tents and lodges is the product of years of experience. We strive passionately to achieve 100% quality daily and are proud of our product! Customers rate us a 9.5 out of 10 based on 70+ reviews ★ ★ ★ ★ ★.
"Excellent quality and craftsmanship"
"The glamping tents have already been through plenty of rough winds, rain- and snowstorms and have stood the test of time. We are delighted with their product and definitely plan to expand in the future. We highly recommend them both as a product and a business!" – Kitfox
"The Outstanding safari tents are an enormous upgrade from the standard bungalow tents."
"We chose Outstanding because of their fine quality and prices, their enthusiasm, their excellence in communication and expertise, their experienced and efficient assembly teams and the excellent after-sales service." – Adriatic Kamp – Vacanceselect
"Our expectations in terms of occupancy and profit have been exceeded."
"We chose Outstanding's unique safari tents to diversify our rental accommodation range. Our guests are very enthusiastic, and the results have exceeded all our expectations." RCN Holiday park het Toppershoedje
"We had a 99.7% occupancy rate during our peak season."
"We wanted something different to add to our accommodation portfolio, a choice that turned out to be a great success. Our guests are wildly enthusiastic, and we have been expanding our accommodation with different Outstanding tents for three years running." – Dyreparken
"Our guests are always incredibly enthusiastic. Practically all our guests become returning guests!"
"It is an excellent partnership. Delivery is quick and Outstanding worked with us from the beginning to arrange transport, lead times and assembly. The tents themselves are wonderful and exceptionally tasteful!" – Quinta dos Corgos